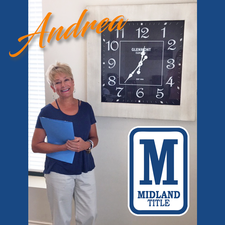 Andrea Kuhr
Escrow Officer
Andrea has worked for Midland Title since 2014, prior to Midland she worked in the mortgage industry for over 20 years. She says, "the best part of my job besides all of our Midland family, is seeing how excited the customers are after purchasing their homes. The excitement they feel never gets old."

In her spare time, she owns a small business that she operates with her two sons. She takes great pleasure in spending time with her awesome "Grands". She also loves spending countless hours hanging out with her three best buddies (sisters) traveling, shopping, trying new restaurants and having mad domino tournaments. She also enjoys a long walking trail, bike riding and a great margarita, not necessarily in that order.

Greatest food ever: "Raspberries - my last meal on death row!"
Profession I would not like: "Septic Tank cleaner"
Profession I would like to attempt: "Cocktail taster at a beachside bar"