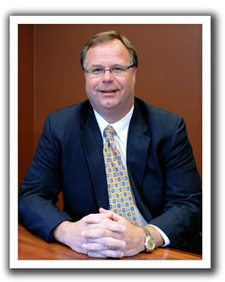 Neal M. Mahoney
Vice-President
Neal M. Mahoney has been the Vice President and Partner of Midland Title and Escrow, Ltd. since 2008. Among his many responsibilities as Vice President, Mahoney manages the day-to-day operations of the company, focusing on the Human Resource functions, and works to ensure the business growth of Midland.

Mahoney, a licensed title insurance agent for the state of Ohio, started at Midland as a Senior Sales Manager in 1999 when Midland was rebuilding the company. Seeing it as a challenging opportunity, Mahoney developed a sales and marketing plan for the new company and, subsequently, sales were doubled within the first two years. In 2004, Mahoney became Vice President of First American/Midland Title.

Currently, Neal is Chairman for the Lucas County Economic Development Commission, Board Member of the Toledo Chamber of Commerce Small Business, Board Member of the Sylvania Chamber of Commerce,

Neal's been married for 30 years with 4 children.

Something you don't know about Neal, you may see him helping Santa during Christmas.