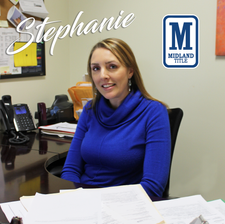 Stephanie Carter
Escrow Officer
Stephanie started working at Midland in April 2013, she came to us as a paralegal and works as an Escrow Officer in our Briarfield Office. A newlywed to Kevin and stepmom to 12 year old son Johnathan, she has an active life that keeps her very busy with wrestling and football. She also loves to shop and is always looking for a great deal, it's like sport for her! She loves to travel as well. She loves the thrills in life and has gone zip lining and white water rafting in the Smoky Mountains and parasailing in Traverse City. Skydiving is next on her list.
•You're a new addition to the crayon box. What color would you be and why? "Ocean blue because I love the beach."
•Why is Midland better than any other Title Agency? "Because we are all so close knit. We all truly care about each other and are like a family. That's what helps get us through hard days because our business is not easy and not for everyone"