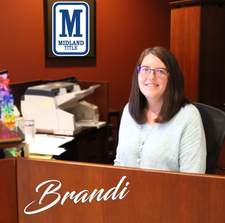 Brandi Rutkowski
Front Desk Liaison
A self-described "Jack-of-all-trades" in the Midland Title ecosystem, Brandi Rutkowski joined the team over four years ago after nearly two decades as a preschool teacher! Aside from her responsibilities on the inside, Brandi is also the smiling face that greets visitors at Midland's downtown location.
Brandi and her husband have two daughters, Breanna who participates in archery tournaments all over the country including Nevada, Alabama, South Dakota, and Kentucky and Heidy who loves golf and ballet. Brandi is an avid crafter, a few other hobbies include sewing, scrapbooking, and painting (when she isn't busy hiking or kayaking!) She is also a pivotal piece in the Midland puzzle and beloved by customers and employees alike.
Favorite color: Magenta
Favorite and least favorite dessert: LOVE anything chocolate and peanut butter; despise carrot cake!
Desired superpower: Flying! Brandi loves the wind in her hair.